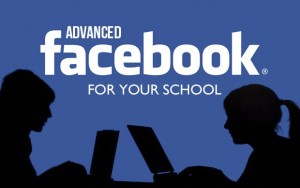 If you are updating your News Feed, sharing all the fun stories and little happenings at your school, and listening as much as you talk, your reach and number of likes will most certainly grow. The best part about this growth is that those new Likes are more valuable to you because they are already connected to you.
Don't be afraid to expand your reach to new parents and community members. Facebook is a incredibly powerful marketing tool, which, if you know how, allows you to target people by zip code and various other demographics, characteristics, and buying habits.
Here are a few advertising options for your school:
PAGE LIKES
One of the simplest ways to increase your reach is to increase the number of people that "Like" your page. This doesn't immediately require spending money on Facebook ads; it requires a little time and a little creative branding.
There are a few inexpensive ways to promote your page and get parents and students more digitally engaged with your school. When you communicate with parents at your school make sure to ask them to "Like" your school page. It sounds simple, but it works. Make sure to include links to the page in emails and on written correspondence as well. Don't forget to put the Facebook icon on your website where current and prospective visitors can find easily find it. You might even consider creatively putting details of your social media on the physical doors of your school so parents and students see them.
There are advanced ways to target people in your area through Facebook's Power Editor. If you haven't looked into Power Editor, do it! I couldn't possibly explain it in this paragraph, but am more than willing to help you and your school dig deeper into it and how it can help you.
PROMOTED POSTS
As more and more content is created by new users joining Facebook, the potential reach of each of your posts is declining. According to Facebook, there are 1,500 stories that could appear in a person's News Feed each time they log onto Facebook. For people with lots of friends and page Likes, as many as 15,000 potential stories could appear any time they log on. Facebook is constantly working on its algorithm for posts so that you see the high-quality posts and less spam. It keeps track of your engagement with friends and pages so that you see more of what you like to see.
Now when it comes to enrollment, there is no better audience than those that like your page especially if you've been engaging with your current parents and students. Because there are limits placed on your unpaid post reach, Facebook enables you to overcome this by paying to promote it to more of your fans. This increases the engagement with your base. In turn, their engagement with the post shows up in their friends' news feeds. This is as close as you can get to organic word-of-mouth advertising.
WEBSITE CLICKS
Another method of increasing enrollment is by using Facebook to drive prospects to your website. Driving prospects to your website will expose them to even more about what your school can offer their child(ren). This means that your website needs to share the best parts about your school. What is it that makes you different? What is your mission? You'll want to make sure your contact information can easily be found. Offer some sort of tour of the school or point them to your school's open house dates.
The possibilities are endless. The important thing to remember is that it takes time to build an audience and the best way to do that is by sharing the amazing things about your school and letting the nature of "social" media do a lot of the work for you. That doesn't mean there aren't ways to expand that reach faster and more strategically through Facebook Power Editor and investing in some social marketing for your school.